The Confederation of African Athletics (CAA) will organize the council and elective congress in Lusaka (Zambie) from 25 to 27 April 2023. On the margin of the two events, the Combined U18 –U20 championships will take place from 29 April to 03 May in Lusaka (Zambie).
Election to the position to be provided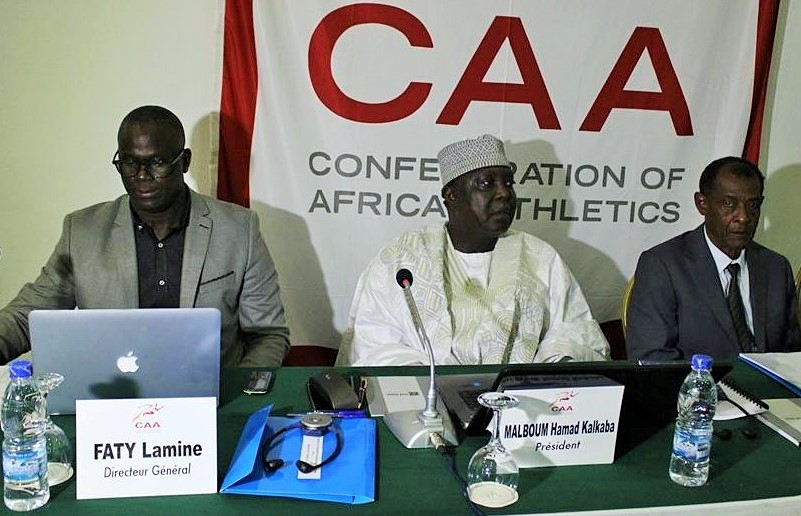 In compliance with the Constitution of the Confederation of African Athletics adopted in 2017, the congress will elect ONLY et SOLELY the President of the Confederation of African Athletics.
Presidents of Regions and individual members of the Congress will be already elected during their respective congress in accordance with quota provided in this constitution. Their election will be approved by the 30th congress of the Confederation of African Athletics, as well as that of the athletes' commission president as ex-officio member of the CAA council.
Application submission deadline
Application for the position of CAA President must be sent with curriculum vitae of candidates by the concerned national federation to CAA office by January 15, 2023 latest. Any application beyond this date will not be accepted.
I recall that according to the statutory provisions and the eligibility verification procedure of the World Athletics Nomination Verification Panel, it is imperative that candidates for the position of Area Association's President be declared eligible by the World Athletics Vetting Panel as a condition sine qua non and prior to their appointment by their respective Federation. Without this, nominations cannot be accepted.
Agenda of the congress
The agenda of each elective congress shall include the following issues :
Roll call and term verification

quorum Verification

Orientation Message from the CAA president

Examination and adoption of the minutes of the previous Congress

Activity Report by the CEO

Report by the Presidents of the CAA Regional Associations

Report of the Auditors

Examination of the Draft Budget

CAA Council Proposals

Proposals from National Federations

Calendar for next season

Reading of candidacies by the Electoral Commission

CAA President Elections

Date and Place of the next Congress
Only issues on the agenda shall be discussed during the congress. However, the CAA President or the council will have the powers to add any urgent issues to this agenda which information will be sent to you later.
Calendar
CAA COUNCIL AND ELECTIVE CONGRESS : 25- 27 April in Lusaka
I Championnats Continentaux et meetings/Area championships and Meetings
N°
Activities/Activités
Dates and Venues

1

6è championnats d'Afrique Cross Country/6th African Cross Country Championships

2

Epreuves Combinées et Marche/Combined Events and Walk

3

2è championnats d'Afrique combinés U18-U20

19-23 Avril/April Lusaka(Zam)

II
Compétitions sous label World Athletics/ Competition under World Athletics label
N°
MEETINGS
Dates and Venues/Dates et lieux

1

WA Diamond League Meeting Rabat

2

Nairobi Continental Tour

7 Mai/May

3

World Athletics Cross country Tour

18 Février/Feb(Australia)

III

Championnats Regionaux-Regional championships

N°
Activities/Activités
Dates and Venues/Dates et lieux

1

WESTERN REGION

2

CENTRAL REGION

3

SOUTHERN REGION( championnats seniors région sud)

TBC

4

EASTERN REGION( Eastern Africa U18-U20 regional championships

10-11 Mars/March Kigali(RWA)

5

NORTHERN REGION

IV

Meetings continentaux/ AFRICAN ATHLETIC TOUR

N°
Activities/Activités
Dates and Venues/Dates et lieux

AFRICAN ATHLETICS TOUR

1

WESTERN REGION

2

CENTRAL REGION(grand prix de Douala)

3

BRAZZAVILLE

4

EASTERN REGION( Meeting International de Djibouti)

17 mars/March

NORTHERN REGION

IV

AUTRES COMPETITIONS AFRICAINES / OTHER AFRICAN COMPETITIONS

N°
Activities/Activités
Dates and Venues/Dates et lieux

1

Semi Marathon International de Djibouti Telecom Gateway for Africa

27 Janvier/January

2

Meeting de GABORONE

29 Avril/April Gaborone(BOT)

3

Meeting International de Yaoundé

4

Garden City International Grand Prix Port Harcourt

5

Semi-Marathon International du district Autonome d'Abidjan

6

Meeting Internationale de Tunis

16 Juillet/July Tunis(TUN)

7

Meeting de Bamako

13 Mai/May Bamako(MLI)